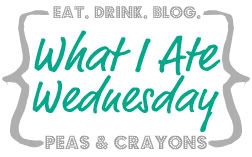 It's Wednesday so it you know what that means! Unfortunately pregnancy brain has kicked in lately and I forgot to photograph my breakfast yesterday. What you missed was a spinach bagel with tofutti and tons of veggies-it was amazing. To go along with it I had a 1/3 caf and 2/3 decaf coffee and lots of water.
 For lunch I enjoyed marinated tofu with sesame noodles, tomatoes, cucumbers and red bell peppers.
and then I snacked on one of these delicious new granola bars from Nature's Path. I picked up the Macaroon Crunch and Apple Pie flavors and both are amazing. I love that they are low in sugar and have 3g of protein and 3g of fiber.
I also snacked on a banana with almond butter and raisins before I headed to yoga class.
 Dinner was the star of the show- we had pita pizzas with parsley-pumpkin seed pesto, white beans, mushrooms and tomatoes.  I had to restrain myself from eating the second one I made for our lunches today.  I served these up with a green salad with Briannas French Vinaigrette. Recipe to come for Pita Pizza.
I topped our pizzas with this sample I received of Parmela– Parmesan cheese replacer. TheHubz and I both enjoyed the Parmela my only complaints were that the holes were way to small on the sprinkle side of the cap and compared to other vegan parms it was a little dry, but still very tasty.
What did you eat this Wednesday?
Also I will leave you with a photo of this cutie…